It's no secret that consumers are increasingly discerning about the brands and companies that win their business and purposeful companies that openly share their values and personality often create stronger relationships with their key stakeholders. Audiences want to trust brands and know that their values are in alignment and one way to build trust is by defining a compelling and authentic brand voice.
A brand voice often refers to the personality that a company integrates throughout their communications and it plays an important role in ensuring a company's messaging is a true reflection of their values.
Whether starting from scratch or refreshing your brand's voice and tone throughout the years, it is important to ensure it's truly reflective of your company or organization.
Another benefit of a well-articulated brand voice is consistency. Oftentimes, agencies are tasked with co-creating content across many platforms, including social media, newsletters, media materials and more. A clear brand voice helps all content partners work together to create a consistent brand experience – and ultimately, earning consumer trust.
When you're creating a brand voice from square one or evaluating current communications strategies, consider the following:
1. Find your brand's characteristics.
Describe your brand in at least three words, starting with "We are …". If your brand was a person, how would you describe its personality to someone? How do you want others to perceive your brand's personality? It may sound simple but identifying these characteristics and ensuring they reflect the company's mission, vision and values are foundational to creating your brand's voice and tone.
2. Look at the other side of the coin by placing limits on those characteristics.
Now that you've established your core characteristics, what do you not want those characteristics to convey? For example, your brand voice may include the word "confident," but not cocky. Establishing parameters will serve as the guiding guardrails for your team and partners when they're drafting content, maintaining a consistent tone throughout your messaging, no matter the platform.
3. Develop a description of each of your three characteristics.
Looking at the characteristics identified in step 1 and keeping in mind the limitations you placed in step 2, the next step is to create a definition for each characteristic. This will be the opportunity to let your company or organization's values shine bright. What makes your brand unique? For example, it can be assumed many companies describe themselves as "passionate", but what is your company passionate about? Referring to your mission, vision, values and purpose will help you define these characteristics in a way that will stand out from the crowd.
4. Finally, create a brand voice chart.
You have all the pieces, now it's time to put it together. By taking your brand's characteristics, limits, and descriptors, laying them out in a brand voice chart will help illustrate how these items will come to life in your content and will be an essential reference tool to ensure your content is consistently using the same voice.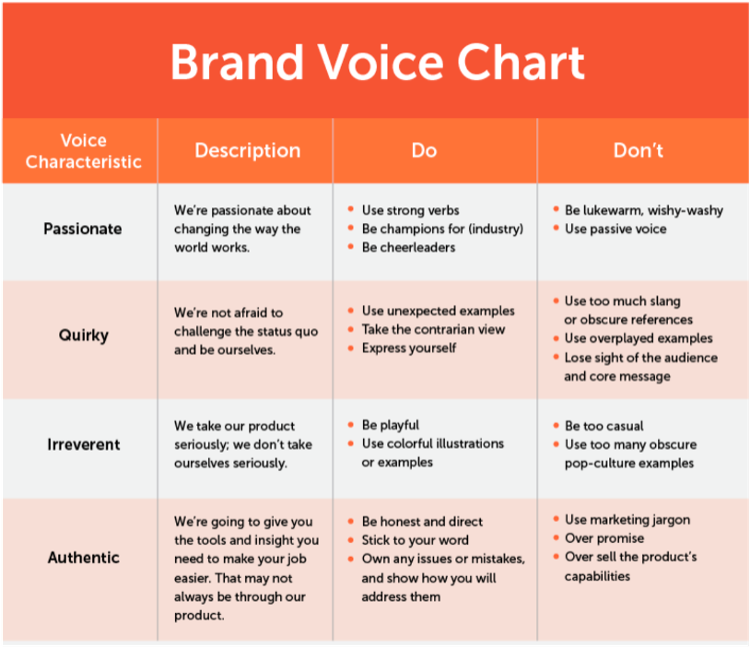 Source: Content Marketing Institute
When it comes down to it, the path to earning a consumer's trust is not a one-size-fits-all approach. But having a consistent brand voice that is true to your organization or company's values will allow them to get to know your brand and what you represent.
Are you interested in defining your organization or brand's voice, but not sure where to begin? Give us a call and the NST team will serve as your partner in establishing an authentic brand voice.