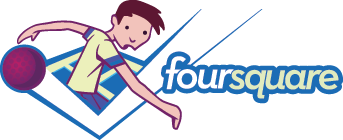 What is Foursquare? Foursquare is a geo-location social networking and gaming site.  Businesses with a page on Foursquare can benefit by interacting with and offering promotions to customers who "check-in" to their venue.  (For more details about Foursquare's premise, check out Mashable's numerous Foursquare articles)
So why aren't you on Foursquare?  Probably because, like many people, you are spread too thin across your other social media sites and don't yet see the purpose or benefit of participating in Foursquare.  While some people love the gaming aspect of Foursquare, (read the case study of a Milwaukee-based restaurant that attracted 150 Foursquare users to their venue) other people need a better motivator to engage in yet another social site.
A few organizations, such as the South By Southwest music festival, have offered real benefits to Foursquare users.  SXSW logged more than 347,000 Foursquare check-ins in one day during their festival largely in part to their Foursquare scavenger hunt game, which awarded free concert tickets to the winners.  Other companies such as Starbucks and Tasti D-Lite have partnered with Foursquare to offer special deals and promotions.
At this time, not many organizations are active on Foursquare (see a full list on the Foursquare Web site).  To encourage more businesses to become involved, Foursquare just launched a business dashboard, which offers check-in analysis.  Per Mashable, it can "…track check-ins and data includes total check-ins, unique visitors, male-to-female ratio, social media sharing (showing how many users are sending their check-ins to Twitter), top visitors and check-in time breakdown."  The New York Times' Bits blog notes that now "…business owners can offer instant promotions to try and engage new customers and keep current ones."
By meshing the qualities of yelp and competitive gaming, Foursquare is positioned to be a social networking site that could allow great interaction between companies and their customers.  But for people already overwhelmed by their current social networking sites, Foursquare may not yet have a strong enough draw.  More companies need to become involved (like Wynn Las Vegas and Lucky Magazine) with offerings of freebies for mayors, special event offers and other value-adds in order for the site to really take off.  If your company is interested in becoming involved with Foursquare, now is the time to make a name for yourself as the site grows.
Before jumping in, first review your social media plan to determine if Foursquare engagement is the right decision your company and its social media goals.  Your company will need to determine how it will engage with customers on Foursquare and whether your company has the time and resources to devote to this site to make engagement worthwhile.  If you create a page – how will you interact with your customers?  Will you offer specials for people checking into your venue?  Could you use the site to find new ways of providing excellent customer service?  Finally, do your research about Foursquare and learn about the different tools Foursquare provides, including the new business dashboard.  Social media is all about listening, exploring and connecting – and Foursquare offers these tools in spades.
And for those of you who roll your eyes at Foursquare – don't be so quick to brush off the social networking site.  Foursquare now has almost 725,000 users and it doesn't show any signs of slowing.